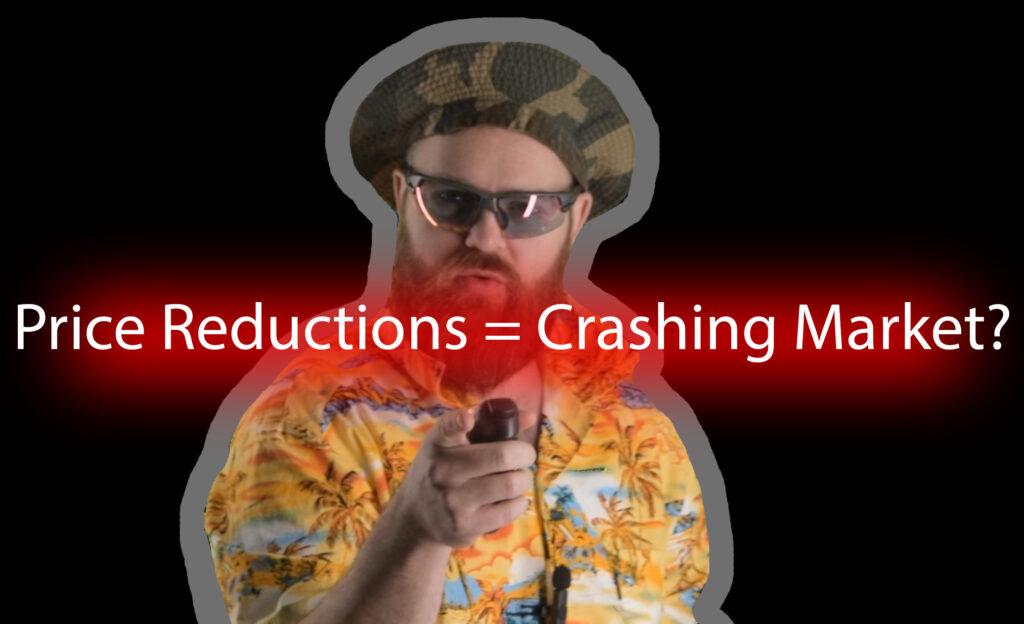 Common Questions About the Real Estate Market in Lewis County, WA
Why isn't the market crashing yet?
The market's in a freefall right? No.
Well, it's a buyer's market isn't in? No.
Prices are way down right? Depends on the context.
Wait a minute, I'm seeing a ton of price reductions, you're lying!
You are seeing a ton of unnecessary price reductions, but all I'm doing is reporting the stats so…
Do Price Reductions Equal a Crashing Market?
Hey its your favorite local Realtor, Eren Millam w/ Premiere Property Group. I specialize in all things Lewis County because it's where I live, work, & play. If this is your first time seeing me, I do 1-2 videos a week covering the market, reacting to real estate gurus, educating and informing you to make the best financial decisions when it comes to real estate. If you'd like to learn more about me, upcoming events in the area, or check out my weekly blog, you can visit my website, LewisCountyHomes.com. Now that we got that out of the way, let's dig in!
2008 All Over Again
Let's address all these questions. The assumption of a crashing market comes from two places. It feels like 2008 all over again and there was a collapse. However, none of the contributing factors present in 2008 are present now so it's largely an emotional reaction. The market definitely feels different and it is, but the stats just do not provide any evidence for a crash.
Isn't the Market Going Down?
What about the market being in a freefall? Well, the market did go up and it did go down, but we ended the year ahead of where we began the year. That means, it wasn't a crash, but an adjustment of appreciation. Prices are down from their historical peak in June 2022, but they have go up 3 out of the last 4 months. Experts are projecting an appreciation of 4% this year. Not much of crash if you ask me!
It's A Buyers Market, Right?
But is it a buyer's market? Definitely not. Are we seeing buyers getting their closing costs paid and offers getting accepted at 9% off the asking price? Yes, we are, but my clients aren't giving up that much equity because I follow the stats. Further, a buyer's market is determined by the amount of inventory and how fast it takes us to sell through it. We are nowhere near a balanced market let alone a buyer's market. Buyers are getting deals because sellers are uninformed or misinformed. Period. End of story. Goodbye! What movie is that from?
To sum it all up, you'd better get your popcorn because this crazy high priced market is not done yet.
If this was helpful to you in any way, consider giving it a like so more people who have the same question can see it and subscribe to my channel so you don't miss any need to know information about our current market. Again, I'm Eren Millam with Premiere Property Group, and remember, never settle for less than extraordinary!
———-
If you're thinking of buying or selling your home in the west Lewis County area, contact me today! I'd love to hear from you! Eren Millam – Managing Broker Premiere Property Group, LLC WA License No. 26933
Chehalis, WA 98532 | Centralia, WA 98531 | Adna, WA 98522 | Napavine, WA 98565 | Onalaska, WA 98570
Rochester, WA 98579 | Vader, WA 98593 | Winlock, WA 98596 | Boistfort, WA 98538
Call/Text: (360) 219-3616 | Email: Eren@LewisCountyHomes.com
Check us out on FB: https://www.facebook.com/erenmillamrealtor
Want to Search for Lewis County homes? Do that here: https://lewiscountyhomes.com/homes-for-sale-search/
Are you a first-time home seller? Take this FREE Virtual Seller Seminar: https://seminar.lewiscountyhomes.com/
Considering selling your home? Get your FREE Market Analysis: https://cma.lewiscountyhomes.com/
Get your FREE Buyer & Seller Guide: https://about.lewiscountyhomes.com/
Want to stage your home to increase its perceived value? Check out my FREE Staging Guide: https://staging.lewiscountyhomes.com/
Related Posts
How Long to Sell Your Home In this video you're going to…

Best Month for a Fast Sale In this video you're going to…

Worst Month to Sell Your Home In this video you're going to…