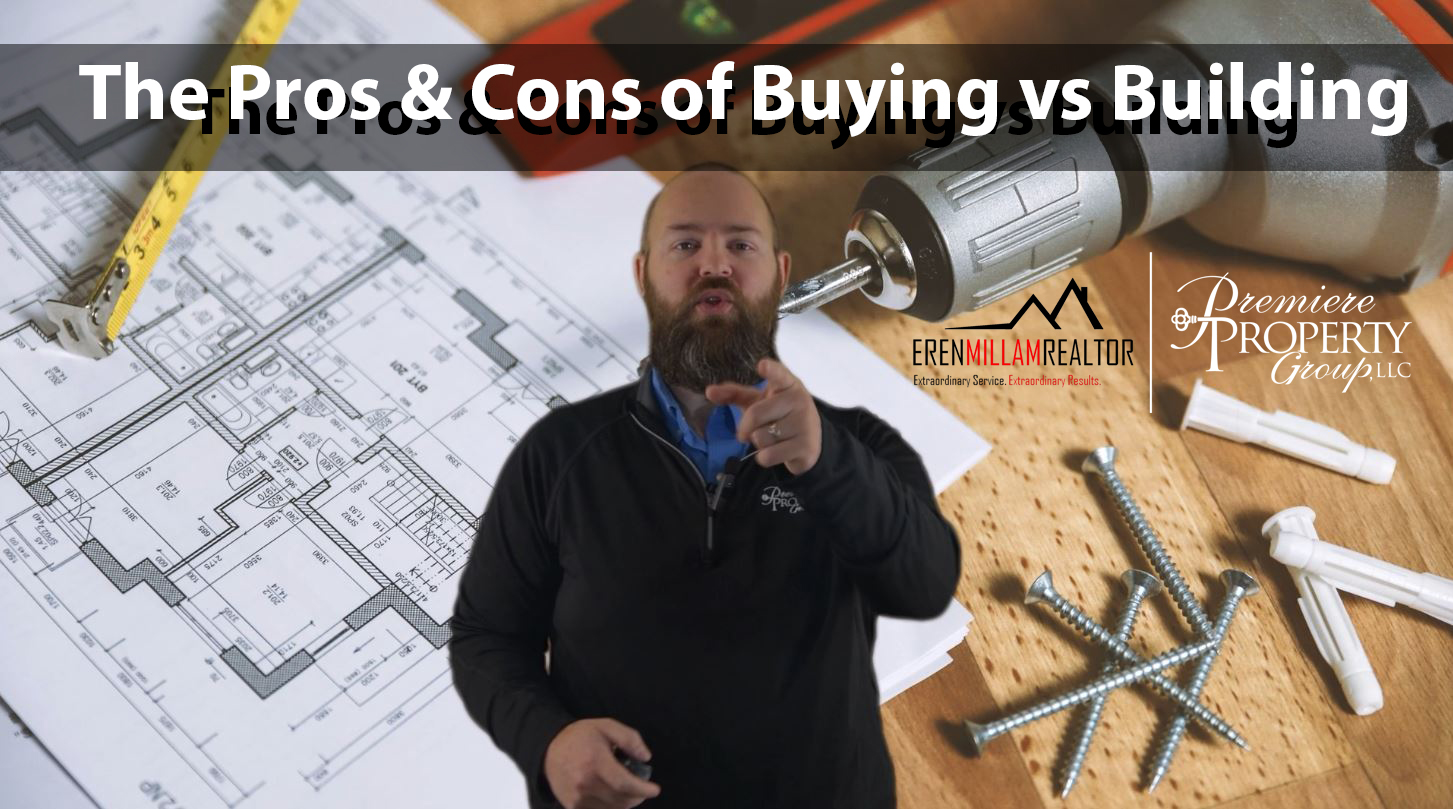 Have you ever considered building your dream home before? Are you overwhelmed with the process and trying to weigh the pros and cons of building vs Buying? Well, YOU are in the right place at the right time because that's what we're covering today!
Pros and Cons of Building vs Buying
Hey its your favorite local Realtor, Eren Millam w/ Premiere Property Group. I specialize in all things Lewis County because it's where I live, work, & play. If this is your first time seeing me, I do 1-2 videos a week covering the market, reacting to real estate gurus, educating and informing you to make the best financial decisions when it comes to real estate. If you'd like to learn more about me, upcoming events in the area, or check out my weekly blog, you can visit my website, LewisCountyHomes.com.
I've been helping my clients buy and sell real estate for nearly a decade and I can tell you from experience, building or buying an existing home, neither is guaranteed to make you 100% happy. So now that we have that out of the way, let's get to the Pros and Cons of Building vs Buying.
The Benefits of Building
Designed to Your Specs
You can make the house be whatever you want. Do you want a basement, a spare room, an extra bathroom, etc.? You can have it all if you have the finances to cover it.
Intimate knowledge of home systems
Watching a home being built is incredibly exciting! Not only that but you get to tour it and learn how it's done from the ground up. I just walked through a new build the other day and it's fun to figure out which rooms are what, and to picture what it will look like!
Instant equity
In most cases, the cost to buy land, build a home and install utilities, is less than buying an existing home or a new home. You took the "risk" of developing the property and so you reap the benefits!
Those are some persuasive pros to building but let me tell you why buying might be better.
The Benefits of Buying
Timelines
If you need a home right now, not 6,8,10,12 months from now, purchasing can put you in a house in as little as 2 weeks!
Hassle
Not only does building take a lot longer, you have a ton of decisions to make and obstacles to overcome. In a purchase, your agent tackles most of these. When you're building, you're on your own and without proper knowledge, you could end up with a poorly built home. No longer a dream home, but a nightmare and a money pit.
Instant Equity
Speaking of equity, instant equity when building is overrated! Right now when homes are appreciating on a near monthly basis, you could have built in equity from the time you offered to the time you closed.
So each option has its own set of benefits and obstacles.
Should I Consider Building or Buying Instead
Which ever option you choose, whether building or buying I want you to be fully informed on the pros and cons. Reach out to me to discuss your options and which might be best for you. If this was helpful to you in any way, consider giving it a like so more people who have the same question can see it and subscribe to my channel so you don't miss any need to know information about our current market. Again, I'm Eren Millam with Premiere Property Group, and remember, never settle for less than extraordinary!
Again, I'm Eren Millam with Premiere Property Group, and remember, never settle for less than Extraordinary!
---
If you're thinking of buying or selling your home in the west Lewis County area, contact me today! I'd love to hear from you! Eren Millam – Managing Broker Premiere Property Group, LLC WA License No. 26933
Chehalis, WA 98532 | Centralia, WA 98531 | Adna, WA | Napavine, WA | Onalaska, WA 98570 | Rochester, WA 98579 | Vader, WA 98593 | Winlock, WA 98596 | Boistfort, WA
Call/Text: (360) 219-3616 | Email: Eren@LewisCountyHomes.com
Check us out on FB: https://www.facebook.com/erenmillamrealtor
Want to Search for Lewis County homes? Do that here: https://lewiscountyhomes.com/homes-for-sale-search/
Are you a first-time home seller? Take this FREE Virtual Seller Seminar: https://seminar.lewiscountyhomes.com/
Considering selling your home? Get your FREE Market Analysis: https://cma.lewiscountyhomes.com/
Get your FREE Buyer & Seller Guide: https://about.lewiscountyhomes.com/
Want to stage your home to increase its perceived value? Check out my FREE Staging Guide: https://staging.lewiscountyhomes.com/
Related Posts