In this month's edition of the Lewis County Market Report for July 2022, we'll consider all the major factors that contribute to a market. Then we'll analyze the findings and predict what we'll find in the next market update.
You can see last month's report HERE.
Inventory Levels
In June we saw 200 new listings added to the market, and while increasing inventory is always good news, had we not added those 200 homes, there would have only been 95 available homes in June! That is scary considering 110 homes closed and 99 homes went pending last month!
Buyer Demand
I've been seeing a lot of articles discussing a housing crash or correction, and with rising interest rates some people were definitely fooled into believing the market was going to flip in favor of buyers. However, when you look at the stats, there just aren't any indicators to show much change. While homes are no longer seeing multiple offers, there still is a lot of competition. Buyers are no longer willing to bid up the price and waive contingencies, however.
In June we saw a total of 295 available homes, however, 110 homes were sold and 99 went pending. The current absorption rate is 37%, which means that buyers gobbled up 37% of the available listings in June. For reference, anything above 20% is considered a seller's market. The current month's supply closed is 2.5, which means that it would take 2.5 months to sell through our current inventory!
Price Analysis
The average home sales price in Lewis County, based on a 12-month rolling average, increased from May by approximately $3,755.00. Though there have been a few price reductions, overall home prices are up 12.7% from June 2021.
I hear many buyers say that they're going to wait for a market crash, but month after month we continue to see price increases. While you wait, you risk paying more for your home and you risk losing your buying power. Looking at the table below, you can see if you had purchased a home last June, the average sales price would have been $410K, in just one year prices rose by $52.000.00. That's a huge hit to home buyers in a market like this one!
Interest Rates
According to this article from PBS, if inflation continues, the Fed may have to raise interest rates to restrictive levels. If you've been contemplating purchasing a home but holding out in the hopes that the market would crash or interest rates would drop, I implore you to meet with your agent and lender and make a plan to navigate this market. The higher interest rates rise, the more of your buying power you lose. If the average sales price of homes is any indication, you need all the buying power you can get!
Lewis County Market Report June 2022 Summary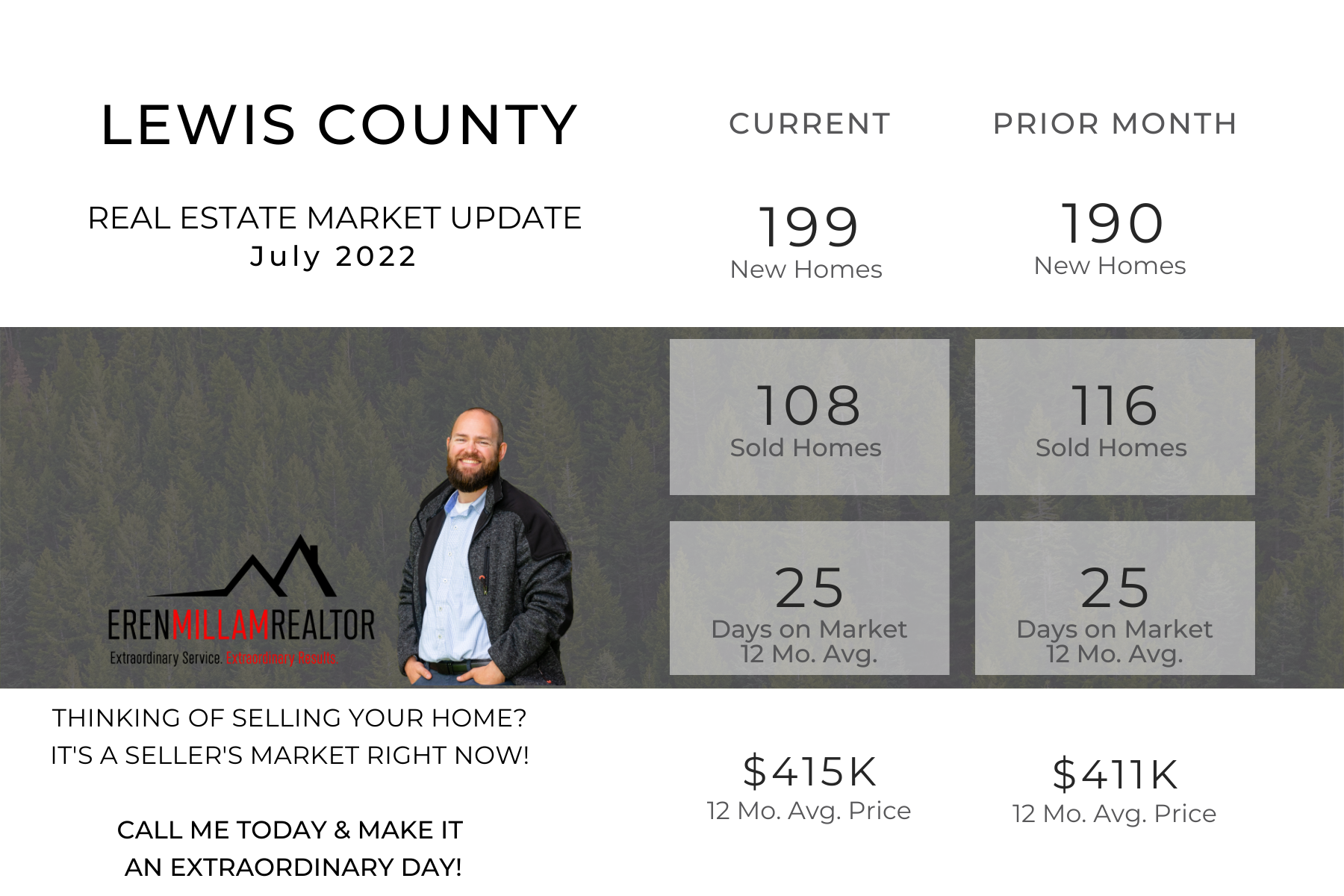 Buyers continue to be frustrated about the current market and ultimately decide to wait it out. They are waiting for the housing bubble to burst, but that isn't happening. Find out your buying power, make a plan, and work with your realtor to execute it.
Not quite ready to get started but want more information? Head over to our FREE VIRTUAL BUYER SEMINAR.
If you're considering selling in the near future, check out our FREE VIRTUAL SELLER SEMINAR.
Want to know the current value of your home, get your FREE MARKET ANALYSIS.
Have questions about buying or selling, you can contact us HERE.
Related Posts
Real Estate in Toledo, WA The Toledo WA real estate market is…

May 2023 Market Update: The average price in Lewis County is finally…

Real Estate in Napavine, WA The Napavine WA real estate market is…